In the last few weeks, some virus distributors try to exploit the holiday season in order to spread Viruses more easily. The viruses are attached to email messages that offer coupons or special offers for Christmas.
The first 2 'Christmas Virus Messages' already appeared in the beginning of december and these emails identified themselves as originating from Coca Cola and Mcdonalds.
Now there are 3 new messages which identified themselves as originating from Symantec, British Airways and Jack Daniel's.
As my email address is pretty popular, I received dozens of these emails together with other junk, as you can see in the following screenshot: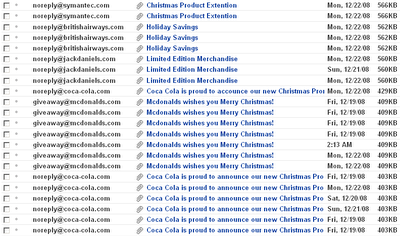 All these emails instruct the user to open the attached file, which contain a Virus that probably continues to send these emails to more and more people.
Here's the details of all 5 Christmas Virus Messages:
Symantec

Subject: Christmas Product Extention
From: "noreply@symantec.com"
Attachment: product-extention.zip

Message Body:
This holiday season Synamtec is rewarding our valued customers by extending your products protection period by six months.
Follow the instrustions in the attachment to receive your extra protection and have a wonderful Christmas!
Offer valid until midnight 31st January 2008.

British Airways

Subject: Holiday Savings
From: "noreply@britishairways.com"
Attachment: britishairways-coupon.zip

Message Body:
British Airways is offering fantastic deals this festive season. Check your attached coupon and book online today for an amazing holiday!

Jack Daniel's:

Subject: Limited Edition Merchandise
From: "noreply@jackdaniels.com"
Attachment: jackdaniels-coupon.zip

Message Body:
Have yourself a Merry Christmas with Jack Daniel's.
Print the coupon and head for your local outlet
for limited edition merchandise.

Coca Cola

Subject: Coca Cola is proud to announce our new Christmas Promotion
From: "noreply@coca-cola.com"
Attachment: promotion.zip

Message Body:
Coca Cola is proud to announce our new Christmas Promotion.

December, 2008

Play our fantastic new online game for your chance to WIN a trip to the Bahamas and get all Coca Cola drinks for free in the rest of your life. See the attachment for details.

Mcdonalds

Subject: Mcdonalds wishes you Merry Christmas!
From: "giveaway@mcdonalds.com"
Attachment: coupon.zip

Message Body:
McDonald's is proud to present our latest discount menu.

Simply print the coupon from this Email and head to your local McDonald's for FREE giveaways and AWESOME savings.